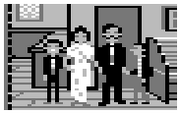 Marshall Wilson
(1806-1839) was a carpenter, the husband of
Martha Wilson
, His best man was
Mr. Quail
, president of the
Brooklyn Bank
. With his sons
Jake Wilson
and
Jerrod Wilson
they arrived to
Brooklyn Heights
and he built their house on 10
Front Street
.
He and his wife were suddenly killed in a dark, damp, dreary, cold, rainy, windy, winter night in an unfortunate horse-drawn buggy accident. He was buried in the Greenwood cemetery.
In his memory, Jake erected a fake tombstone to 'Wilson Marshall' in the cemetery of New Helvetia which contained clues for his brother, Jerrod, to find him.
Tombstone
Edit
In respect for our father


Marshall Wilson
Taken away 1839
Age 33


A man whose steps are
worthy to walk in.
This great name to be
carried on by
Jake and Jerrod.