Jake Wilson is son of Marshall Wilson and Martha Wilson, and brother of Jerrod Wilson. They came to Brooklyn with their parents when young.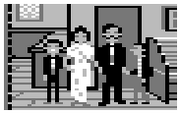 When his parents were killed in a buggy accident in 1839, he and his brother were raised by his father's best man, Mr. Quail.
Eventually he was falsely accused of a crime he did not commit and although he was promised a fair trial, the townspeople weren't interested in justice. He left Brooklyn "eleven years ago", and Jerrod wanted to follow him, but Jake dissuaded him because of the dangerous travel.
He ended up somewhere near Coloma by the name James, and discovered gold in the American River. He dug a mining tunnel and built an outhouse above to conceal it. In his father's memory, Jake erected a fake tombstone to 'Wilson Marshall' in the cemetery of New Helvetia which contained clues for his brother to find him.

He wrote a letter to his brother, Jerrod, to come to California. In the meantime he had secured a secret room on Grene Pastures hotel with enough clues for Jerrod to follow his trace, and objects that would help him.